BMO has made a major donation to the Manitoulin Health Centre for its Let's Emerge Together Campaign.
Bank regional vice president Jennifer Carbone announced a donation of $200,000 earmarked for the campaign which supports the renovation and expansion of the Mindemoya Emergency Department.
She says BMO is thrilled to play a role adding the donation will support the progress being made in local healthcare delivery, with a direct impact on the health and wellbeing of people in the community.
In honour of their contribution, the new waiting room in the Emergency Department in Mindemoya will now be known as the BMO Emergency Waiting Room.
When asked about the donation, Dennis McGregor, Board Chair said "On behalf of the Board of Directors of MHC, we would like to express our sincerest gratitude to BMO for their very generous donation to our Lets Emerg Together campaign. MHC is proud to have BMO as our banking partners and is grateful for the outstanding Corporate Citizenship they continue to demonstrate to all the people of Manitoulin Island."
Paula Fields, President and CEO of MHC adds, "Thank you so much to BMO for this very generous donation which will have direct impact towards the health and wellness of our community. All of us at MHC appreciate the corporate stewardship and sense of community of BMO."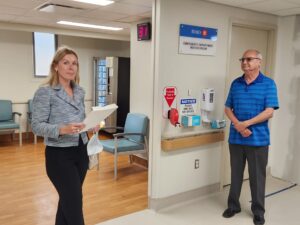 Jennifer Carbone, RVP, BMO Personal Banking with Dennis McGregor, Chairman of the Board