Laurentian University Residence Life team hosted its 18th annual Airbandz for Cancer fundraiser earlier this month.
This event showcased student groups who choreographed and performed dance routines in order to raise money for cancer research with $1,680 being donated to the Northern Cancer Foundation.
Since its inception in 2003, LU Airbandz has raised well over $100,000 for the Northern Cancer Foundation which supports cancer care, local cancer research and vital equipment purchases at the Shirley and Jim Fielding Northeast Cancer Centre in the City of Greater Sudbury.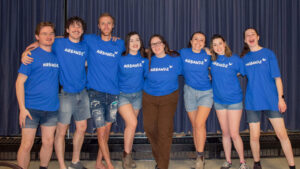 Team Percy Jackson consisted of Laurentian students, all eager to participate in this event that raised $1,680 for the Northern Cancer Foundation.