Espanola's mayor attended the Espanola Elks years of service meeting this week.
Espanola Mayor Doug Gervais was on hand to present two local men with service pins.
Gervais and Exalted Ruler Angela Houle presented the pins for 50 years of Elk Service to Frank Beer and 40 years of service to Jerry Gagne.
Houle also acknowledged Ron Beaudry who has served 45 years and Francis Innis who has served 40 years but were unable to attend.
The new members were also welcomed including Exalted Ruler Angela Houle, April Shay, Barbara Reynolds, Grant Richer, Tina Sayers, Barry Houle, Shaun Wemigwans, Agnes Molly, Andy Doyon, Tracy Pilon, Taylor Caibaiosai, Nora Gallagher and John Jackson.
Membership chair Shari Commission presented Houle with her new member's pin, and in turn, Houle presented the rest to members.
Commission says the Elks is growing stating so far we have 55 members, two more than the end of last year.
Anyone interested in becoming a member is encouraged to drop by the hall or contact Houle or Commission via Facebook or by phone.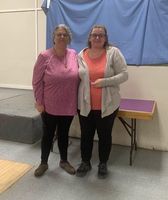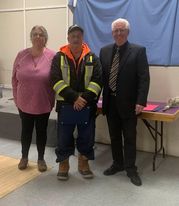 Jerry Gagne – 40 years of service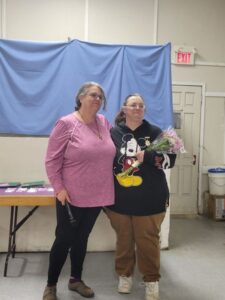 Exalted Ruler Angela Houle presents Wanda Ouimette with flowers and her service pin for her work as Past Exalted Ruler.