The 16th annual Technological Skills Competition will be hosted by the Rainbow District School Board this Wednesday in Sudbury.
Dana Pratt, the board's Ontario Youth Apprenticeship Program Coordinator, says around 75 students will test their skills at the competition being held at Cambrian College in Sudbury and the United Brotherhood of Carpenters and Joiners Local 2486 in Azilda.
She says there are dozens of competitions for students to test their skills from welding to auto-service, tv production to virtual image technology, cabinet making to carpentry.
Pratt adds students will not only receive medals and certificates, but they will also win the opportunity to compete at the Skills Ontario Competition on May 1st and 2nd in Toronto.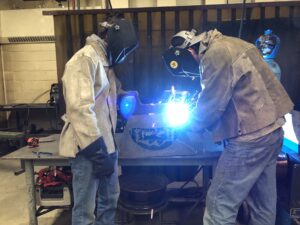 Photo: Trent Horne, left, and Drake McDonald of Lively District Secondary School hone their welding skills for the Rainbow District School Board's Technology Skills Competition on Wednesday, March 1, 2023. Photo provided by RDSB