The Espanola Royal Canadian Legion Branch #39 has officially kicked off the 2022 hospital foundation fundraising campaign.
The Espanola Regional Hospital Foundation announced last week that it would once again partner with Moose 99.3 FM to raise funds for a new campaign which will see the purchase of two pieces of equipment for the laboratory.
Legion president Gary McPherson was proud to kick off the 2022 radiothon with a $10,000 donation presented to the foundation yesterday afternoon.
Hospital Laboratory Manager, Verner Hurst, says the donation is much appreciated and will go towards replacing a Hematology Analyzer and a Blood Warmer.
The goal is to raise $90,000 by December with the radiothon taking place that month as well.
Hurst adds the hematology analyzers, priced at $70,000, can analyze whole blood specimens for the complete blood count including red blood cells, white bloods cells, platelets, even hemoglobin and more. The blood warmer, which is $20,000, allows for blood to be maintained at a proper temperature for transfusions.
This is the ninth year that the local radio station and the foundation have partnered to raise funds for various hospital projects including retrofitting the medical imaging suite, new beds, the new garden for senior residents and more.
Hospital publicist Terri Noble says donations towards the project are welcome and she can discuss details with interested parties by calling her at 705-869-1420 and asking for the foundation office. She adds those donations can also be made in memory of a loved one.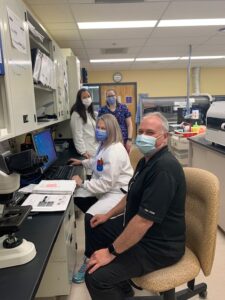 The gang in the lab is hard at work. They say thank you to everyone for their support. Hospital publicist Terri Noble says a lot of people do not realize that some lab services are not supported by provincial funding and the hospital itself pays for those services out of their yearly budgets. She emphasizes if the hospital did not do so, people in the area would have no choice but to travel to Sudbury or other health centres for getting tests done. Photo provided by Terri Noble and used with permission.